Angelic Healing for Pain
Four meditation journeys
Prerequisite: Healing With Light Volume I and II highlly recommended as prerequisites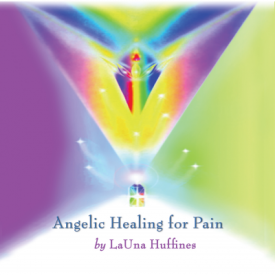 "In these meditations listeners learn to release pain through deep relaxation and linking with the solar Angel to invoke spiritiual healing. Connecting with the Inner Healer offers further release from pain. The music by Thaddeus enriches the healing atmosphere with soft synthesizer chords and gentle bells—complementing the visual imagery with beautiful notes, creating a feeling of inner peace that works in tandem with Huffines' voice.

"The angels that Huffines speaks of are here to supply us with a path to move knotted up energy creating pain to create streams of lighted energy that complete the natural flow of energy into every system and cell. The angelic healers "know the problem you are working with; they can see it in your energy field." Huffines advises a complete surrender to this loving energy: "Let these angels flow around and within you." The congestion of energy causes pain. For session two, Huffines encourages the creative visualization of colors to go with each new energy flow.

"For the third session we go even deeper, confronting the soul and its image of the self—"the soul projecting outward for you to see." The most important step here is to realize a magnetic image of the self—"a healing hologram" that you energize with "so much light that it can reflect light back to you," igniting your body with its same shining frequency of radiance and good health. Your mind should be as clear and focused as the image you are projecting.

Session 1: Transparent fibers light up as light flows into your energy body. With your Solar angel, you clear obstacles that cause pain.

Session 2: In the Room of Love the angels bring serenity and deep relaxation. Beautiful bells vibrate each system to heal pain.

Session 3: The Angels sweep sapphire blue, pure greens and violet through your cells. Your inner healer reveals what you can do to lift pain.

We recommend that you combine these audio meditations with Healing With Light Volume I and Volume II where you learn to create the Golden Triangle of Healing with the soul, the Solar Angel, and yourself.
Download MP3 Audio