Angelic Healing for Skeletal and Muscular Systems
Four guided meditations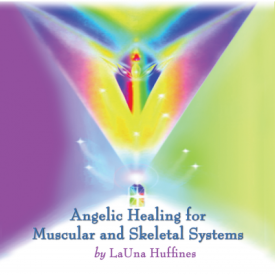 Four guided meditation journeys for angelic assistance to strengthen and rejuvenate bones and muscles using visualization, color and sound. A powerful and relaxing inner journey. Listeners tell us they experience a sense of regenerating energy thrughout their body and nervous system after listening to these four meditations.
Session 1: Angelic cooperation to strengthen muscles and bones. Visualizing these two systems receiving new energies.
Session 2: Using colors and sounds to amplify healing and regenerating. Healing bells send waves of energy through the bones and muscles.
Session 3: Your Inner Healer answers your questions -- with its unique loving understanding, wisdom and love. You discover how much knowledge is right there, available to you any time you invite your Inner Healer to help you.
Session 4: You become aware of your soul's beautiful healing hologram for your body and life; you realize its ongoing effectiveness to infuse your muscles and bones with healing light.
Note: Especially effective with headphones.
A recent review from a customer:

With LaUna Huffines soothing voice and background music by Thaddeus this meditation CD is a truly healing experience. This is an asset to her book Healing Yourself With Light or simply by itself.

I was put in a deep peaceful, relaxed state and met my solar angel. I felt the angels of divine love working on purifying me heart, the angels of color, and the angels' of sound healing vibrations of OMMMM. You are asked to select the color that stands out for you the most, Mine was red. I found this interesting because red is the root charka which stands for survival, and financial issues which is where a lot of fear stems from especially with having enough with all that is going on now in the troubled financial status of the world.

I was not financially compensated for this review. My opinions are soley my own. (Posted by Lisa Owens)
Download MP3 Audio