Path of Light Meditation Groups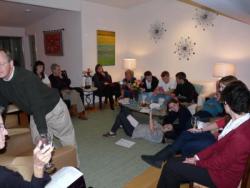 Path of Light Studies Group
Endeavor to live in the light of the soul everyday and distribute divine light and love to humanity. See others as an immortal soul rather than only as a personality.
Link in meditation with groups who are aiding others through love and service.
Encourage co-workers to recognize the unlimited potential of humanity when illumined by the soul.
Distribute light and love to humanity with the Great Invocation or other world prayer after a morning meditation.
Group 1

Eduardo Almeida, Quito, Ecuador Susan Blodgett, Lenox, Massachusetts, USA Linda Dean, Woodland, California, USA Kathie Bradovich, Layton, Utah, USA Evelyn Culmer, Salt Lake City, Utah, USA Joan Burnham, San Rafael, California, USA Sephira Bullard, Ellsworth, Maine, USA Dean Urban, San Diego, California, USA Jean St.Martin, Ashland, Oregon, USA

Group 2 Anita Dittman, Novato, California, USA Diva Marie Santos, Sao Paulo, Brazil Myrna Tonic, Culver City, California, USA Catharina-Dorinde Rypkema, The Netherlands Marybeth Rapisardo, Novato, California, USA April Wootten, Westmont, Quebec, Canada Yuki Ishii, Tokyo, Japan Barbara Cox, New York, New York, USA Lynne Smith, Acton, Massachusetts, USA
Group 3 Kathy McMillan, Henry, South Dakota, USA Kate Balcombe, Nelson, B.C., Canada Erik Cornish, Dry Sandford, Abingdon, England Christopher Keehn, Monterey, California, USA Gillie Driesen, Zemst, Belgium Joan Bakke, Muskegon, Michigan, USA John Frank, London, England Julie Lorio, Gainsville, Florida, USA Penny Carter, Edina, Minnesota, USA
Group 4 Dwana Kolva, Houston, Texas, USA Patricia Powell, Kissimmee, Florida, USA Mary McKinley-Haas, New York, N.Y., USA Claudine Chapou, Eureka, California, USA Julie Apolinario, Chicago, Illinois, USA Margaret Loris, Chicago, Illinois, USA Joanne Walz, St. Paul, Minnesota, USA Marsha Blair, San Mateo, California, USA Debbie Bolin, Claymont, Delaware, USA
Group 5 Sue Kennedy, Ashland, Oregon, USA Kim Eppenstiner, Reno, Nevada, USA Rick Eppenstiner, Reno, Nevada, USA Deborah Andreivich, Eagan, Minnesota, USA Dormalee Earl, Longview, Washington, USA Bonnie Burns, Minneapolis, Minnesota, USA Michele Heisler, Merrill, Wisconsin, USA Karen Murphy, Garden City, New York, USA Amber Schult, St. Louis Park, Minnesota, USA
Group 6 Vivienne Woodson, Des Moines, Iowa, USA Sara Anderson, Plymouth, Minnesota, USA Morag McNamee, Spittsville, Ontario, Canada Leslie Hulse, Delran, New Jersey, USA Sandra Basudde, Ashland, Oregon, USA Caia Cupito, Ashland, Oregon, USA Donna Finnell, Mountainair, New Mexico, USA Diana Burney, Ann Arbor, Michigan, USA Lisa Jeffers, Bozemann, Montana, USA
Group 7 Guiliano Milan dos Santos, Sao Paulo, Brazil Eduardo Milan dos Santos, Sao Paulo, Brazil Regina Celia Milan dos Santos, Sao Paulo, Brazil Wendy Carla Fernandes Elago, Sao Paulo, Brazil Barbara Badolati, Spring Lake, Michigan, USA Primrose Cooper, East Sussex, England Kathy Bradley, Berkeley, California, USA Angela Wickenberg, Norrkoeping, Sweden Jo Ann Minnick, Manassas, Virginia, USA
Group 8 Elizabeth Richardson, Ashland, Oregon, USA Laura Hampton, Santee, California, USA Valerie Parks, Denver, Colorado, USA Thomas Parks, Denver, Colorado, USA Linda S. Page, Escondido, California, USA Providencia Anglero, Chambersburg, PA, USA Dr. Adrienne Ross, Seoul, South Korea Ellen Sturgis, Minneapolis, Minnesota, USA Marc Cabrera, Sun Valley, California, USA
Group 9 Annie Lee Griffin, Brighouse, W. Yorkshire, England; Maureen Waters, Eudora, Kansas, USA; Tham Kok Kong, Singapore Dale Tucker, Tampa, Florida, USA Mercedes Brigitte Franz-Wimmer, Baden, Austria June Hinds, Lutz, Florida, USA Kathryn K. Schroth, Stevens Point, Wisconsin, USA Judy Gordon, Eureka, California, USA
Group 10 Ann Burton, Hamburg, Michigan, USA Teresa Morrison, Ashland, Oregon, USA Genelda Peck, Oklahoma City, Oklahoma, USA Shirley Free, Winnipeg, Manitoba, Canada Robin Tremblay, W. Henrietta, New York, NY, USA Robert Duroe, Frimley, Surrey, UK Daphna Kiperman, Natanya, Israel Jan Schlenter, Groeneboord 52, The Netherlands Joanna Thorn, Ann Arbor, Michigan, USA
Group 11 Ted Kocher, Savage, Minnesota, USA Judy Kocher, Savage, Minnesota, USA Judy Dietiker, Manotick, Ontario, Canada Elizabeth Scruggs, Lake Mary, Florida, USA Donna Finnell, Mountainair, New Mexico, USA Virgina Grey, Santa Fe, New Mexico, USA Laura Allen, Napa, California, USA Jeannie Rounds, Lake Havasu, Arizona, USA Debra Wycislak, Forest Lake, Minnestoa, USA
Group 12 Primrose Cooper, East Sussex, U.K. The Rev. Rosemary Anne Addison, East Sussex, U.K. Mrs. Yvonne Cornwell, East Sussex, U.K. Mary Dawson, East Sussex, U.K. Irene Harrop, East Sussex, U.K. Jane Miles, Eastbourne, U.K. Jane Poole, East Sussex, Philadelphia, Pennslyvania, USA Chris Lipford, Austin, Texas, USA
Group 13 Carolyn R. Thibert, Sacramento, California, USA Scott Chalson, Middle Village, New York, USA Elizabeth Scruggs, Lake Mary, Florida, USA Anne Watkins, Lake Mary, Florida, USA Jolanda van der Wal, Leeuwarden, Netherlands Victoria Martin, Chapel Hill, North Carolina, USA Howard Dugan, Mt. Shasta, California, USA Amanda Lewis, Virginia Beach, Virginia, USA Jean St. Martin, Ashland, Oregon, USA
Group 14 Yen-chen Cheng, Taipei, Taiwan Luz Essex, Dallas, Texas, USA Tamara Rice, Shaker Heights, Ohio, USA Erina Skinner, Beeton, Ontario, Canada Sean Leahy, Exeter, New Hampshire, USA Leslie Dugan, Mt. Shasta, California, USA Howard Dugan, Mt. Shasta, California, USA Ann Hillier-Toureau, Fremont, California, USA Cindy M. Louvar, Marion, Iowa, USA
Group 15 LaUna Huffines, Ashland, Oregon, USA Teresa Wagner, Carmel, California, USA Lorraine Peidle, Boardman, Ohio, USA Dr. Teresa Keller, Felton, Delaware, USA Lana Wooster, Downham Market, Norfolk, U.K. Kit Warner, Liberty, Missouri, USA Shirley Lazonby, Melrose, Florida, USA Jacqueline Hamilton, Montague, California, USA Fred Parker, San Antonio, Texas, USA
Group 16 Kate Balcombe, Nelson, B.C., Canada Elaine Fairbairn, Victoria, Australia Rose Farrugia, Victoria, Australia Elinor Ek, Orero, Sweden Karen Biehl, New York, New York, USA Mellie Pantalleresco, Victoria, Australia Laura Salerno, Victoria, Australia Lynn Kranyak, Ontario, Canada