Merging with Solar Light I: Transforming Your Mind
Eight meditations
Prerequisite: Recommended - Bridge of Light 1 and 2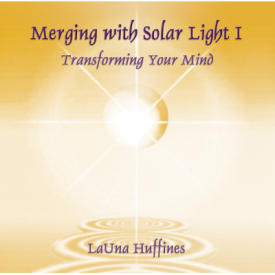 These guided meditations and visualizations aid in the connecting link between the mind and the soul, increase the sensitivity of the mind to the guidance of the soul, and transform your mind step by step toward the actual merging of your mind with the solar light. First, get a clear inner vision of what you want to do, then set your intention. If you wish to align your mind with the higher spiritual energies of the solar angel and soul, use your imagination as you meditate.
Repetition is the key. The intellect picks up the thought quickly, yet merging the mind with solar light is an ongoing process of repetition, consciously recreating the connecting channel of light from mind to spirit each day.
Learn to see through clear, transparent filters of light.
Go on journeys to purify your mind with solar light, and merge with your Solar Angel.
Build the lighted thoughts that transform your mind to form a poised, calm, and serene emotional body.
Give permission for your cells to respond to these new energy currents.
Let your thinking mind have greater illumination and inspiration.
Transform the structure of your thoughts. Increase your natural healing power.
Download MP3 Audio